The industry of hospitality is one of the rapidly growing industries around the world. It highly encompasses businesses that are mainly used for entertaining visitors and is also essential to interact with the travel industry for activating restaurants as well as hotels in the hotel industry.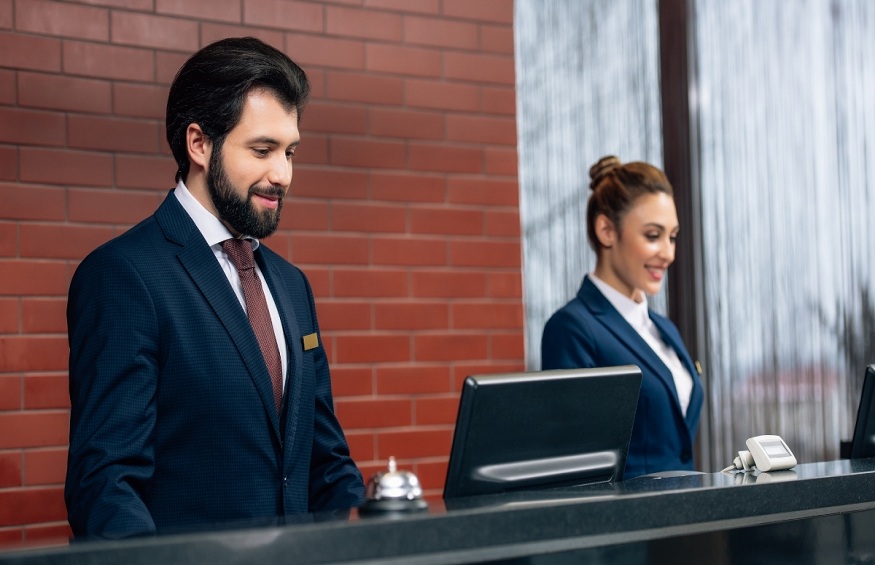 So, customer reviews are also important for setting up the hotel management software no matter if the customer suggests their own requirements before designing the software. Moreover, it is also mandatory to understand the main purpose of different businesses.
Nowadays, implementing the hotel management system can even offer a competitive edge to the hotel as well as help them to offer an exceptional guest experience in the competitive hospitality industry.
Benefits of Hotel Management Software
Here are some of the best benefits of Hotel Management Software explained further that you should know:
Helps in Data Security
The hotel management software providers invest heavily in ensuring compliance with industry standards and regulations with an increasing focus on data privacy and security. This even includes safeguarding guest data, payment information, as well as other sensitive details.
In addition, hoteliers can rest assured that their software solutions are highly equipped to protect both their business and their guests from every potential cybersecurity threat.
Streamlined Reservation Management
Another advantage of hotel management software is the ability to automate as well as streamline reservation processes. The hoteliers can efficiently manage check availability, and bookings, and update room rates in real time. This helps to save a lot of time and even minimizes the risk of overbooking or double bookings in order to ensure a smooth check-in experience for guests.
Moreover, the online booking portals are highly integrated with the software enabling guests to make reservations conveniently by further enhancing the booking process.
Cost Reduction
Hotel management software has also eliminated many manual tasks by simply reducing the requirement for a large administrative staff. This also leads to cost savings in terms of labor as well as operational expenses.
Additionally, automation can also minimize errors by generally lowering the risk of fraud, as well as enhancing overall operational efficiency. So, the hoteliers can redirect resources toward delivering superior guest experiences and expanding their offerings.
Enhanced Guest Experience
Guest satisfaction is always paramount in the hotel industry and the hotel management software helps to assist in improving the overall guest experience by allowing hotels to track guest preferences and requests.
Additionally, the software also helps staffanticipate and meet guest requirements promptly, whether it is room preferences, dietary requirements, or special occasions. This also leads to higher guest satisfaction scores, positive reviews, as well as increased repeat business.
Multi-property Management
The hotel management software offers multi-property management capabilities for hotel chains and groups by enabling efficient centralized control and reporting across several locations. This streamlined approach generally enhances operational efficiency and even ensures a consistent brand experience across all properties that will ultimately lead to improved guest satisfaction and increase your brand loyalty.
Housekeeping and Maintenance Management
Hotel management software can also assist in managing housekeeping schedules and maintenance tasks efficiently. It generally helps staff prioritize cleaning and maintenance needs in order to ensure that the rooms are ready for check-ins and well-maintained to meet guest expectations.
Additionally, this software even streamlines communication between different departments to help them with quick response times to guest requests as well as ensuring a seamless experience during their stay.
Security and Access Control
Hotel management software also includes great access control features that generally limit access to sensitive areas and data. This highly helps protect the guest's information, enhances security, as well as reduces the risk of unauthorized access.
In addition to access control features, security measures such as surveillance systems and encryption protocols are usually integrated into hotel management software. These measures generally help to ensure the safety of both guests as well as staff while maintaining the integrity of the hotel's operations.
Eco-Friendly Practices
The hotel management software also supports eco-friendly practices by highly minimizing the environmental impact of traditional paperwork with its digital check-in and check-out processes, reduced paper usage, and electronic invoicing.
Furthermore, the energy-efficient lighting and heating systems, as well as water-saving fixtures of the hotel management system also contribute to sustainability in hotel operations.
Guest Billing and Invoicing
The hotel management software even automates the billing process by simply generating accurate invoices as well as tracking guest expenses. This highly reduces billing errors and also ensures timely payment collection by contributing to better financial management.
Additionally, this software also offers customizable invoice templates and even allows for multiple payment options in order to enhance the overall guest experience and streamline financial operations for your business.
Event and Banquet Management
 The hotel management software also provides amazing tools for managing bookings, catering, and event planning for hotels hosting events and banquets. It simplifies the coordination of large gatherings and generally leads to smoother events as well as satisfied clients.
Moreover, this software even acts as the ultimate facilitator by simplifying the coordination of even the most extensive gatherings. Therefore, the result is not only smoother and more efficient events but even delighted clients who highly appreciate the seamless experience provided by the hotel.
Integration with Online Travel Agencies (OTAs)
Hotel management software often integrates with OTAs such as Booking.com, Expedia, and Airbnb seamlessly. This great integration generally helps to ensure that room availability, rates, and booking information are completely synchronized across multiple platforms in order to reduce the risk of double bookings as well as maximize online visibility.
Conclusion
There are numerous benefits of using hotel management software in the hotel industry, from check-ins and optimizing reservations to boosting revenue and improving guest engagement.
In addition, thehospitality management system has become the backbone of modern hotel management with its advanced features as well as user-friendly interfaces that helps to establish all sizes of businesses to thrive in an increasingly competitive hotel industry.